Flexible and cost-effective network densification tools to help wireless carriers meet network coverage and capacity objectives in hard-to-access urban, historic and residential areas.
InfraSite® pushes the network EDGE to help carriers connect anywhere, including high-density urban, historic and residential neighborhoods. Whether you are looking to expand your network indoor or outdoor, or develop a new CBRS network, InfraSite® makes it possible.
Turn a challenging location into an easy cost-effective solution.
Whether you are focused on macro towers or small cells / DAS, InfraSite's patented underground solution delivers what you need to expand and densify your network by:
Providing enough network coverage and capacity

Offering unmatched protection from vandalism and inclement weather, including hurricanes

Offering backup power and remote monitoring tools

In aesthetically pleasing way that is accepted by the cities and municipalities
Zoning and Permitting Friendly
Our solution is designed to be aesthetically pleasing, under the traditional height restrictions and flexibly located.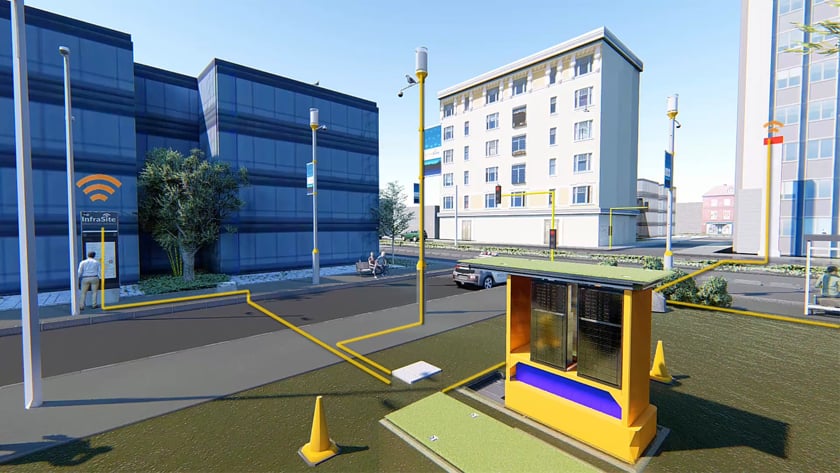 Streamlined Construction Means Faster on Air
InfraSite® has the flexibility of choosing prime land as its preferred installation location without having to build in the Right-of Way, which already contains traffic and utility equipment, telecommunications, fiber, sewer, water and/or power lines.
The site can be constructed and ready for equipment installation in 3-4 days. As soon as equipment, power and fiber are connected, the site is "On Air".
Better Protection for Your Equipment
The InfraSite® solution protects your investment in equipment, by keeping it out of the reach of thieves, secure in a climate‑controlled environment that extends equipment lifetime and is remotely monitored.
Secure
Internal Environmental Control
Lower Underground Temperature
Extended Equipment Life
Safe from Dust and Flooding
Lower Power bills
Weather Resistant
Extreme Weather (Hurricanes, Tornados, Storms, and Fire)
Protection from Moisture and Winds
Remote Monitoring
Heat
Humidity
Energy Consumption
On-site live surveillance